Justin Tuck And The Bucs
March 9th, 2014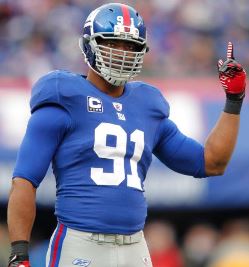 Just about everyone knows and understands the Bucs are shopping for a defensive end this weekend during the lead up to the free agent dinner bell ringing at 4 p.m. Tuesday.
Now shopping and buying are two different things. The Bucs may kick the tires and sniff the bread and squeeze the tomatoes but that doesn't mean they will have a defensive end in their trunk when they come home.
The two biggest names on the wish list of Bucs fans seem to be aging Jared Allen and Michael Bennett, the former Bucs defensive end and the sack leader for the Super Bowl champions Seahawks, who the Bucs let walk away last year for no good reason.
Now Greg Bedard, the X's and O's guy for theMMQB.com, has studied plenty of film and he believes the Bucs should go after former Giants defensive end Justin Tuck.
No. 49: Justin Tuck
Edge, New York Giants (Age 31)

After having nine sacks over the previous two seasons, Tuck had 11 in a contract year. He ranked 23rd in The MMQB Pressure Points, behind fellow UFAs Brian Orakpo (7th), Greg Hardy (9th) and Michael Bennett (10th). Best fit: Buccaneers. Gerald McCoy needs help.
You damned right Gerald McCoy needs help!
Now "Pressure Points" is a calculation Bedard hatched where he combines sacks, sack pressures, hurries, tackles, etc., into a "point." The more points, the more disruptive a defensive lineman is. Some coaches will tell you they will take disruption over a sack because a disruption often leads to interceptions and sometimes fumbles.
Strangely and surprisingly, Joe found that, for a team, Bedard had the Bucs tied for 11th in pressure points for last season. Imagine what the Bucs would be if GMC got help?