Michael Johnson Decided On Bucs In 15 Minutes
March 12th, 2014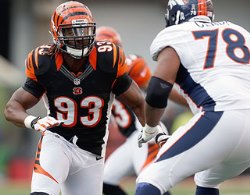 A fun nugget Joe was able to learn today at One Buc Palace came via a chat with the agent of new Bucs defensive end Michael Johnson. He told Joe the Bucs were among six teams who pounced on the phones to Johnson at the start of the free agency "tampering" period on Saturday.
The Bengals made a good offer to re-sign Johnson, the Bears and Vikings came calling with cash, but after a brief chat on the phone with Lovie Smith, Johnson decided he wanted to only talk to the Bucs and see their opportunity through before he would continue talking with those other teams.
The agent (yes, Joe wrote the guy's name down but can't read his writing) told Joe the Bears and Vikings were stunned to be shut down and put on hold within 15 minutes of the start of the tampering window. Johnson took it all the way and inked his deal with the Bucs.
So there you have it, Johnson is where he wants to be and possibly could have had more cash elsewhere.
At today's news conference at One Buc Palace, Johnson shared how he's "stoked" to play with Gerald McCoy and already has been texting with No. 93.