Pro Day Lunacy Surrounding Bridgewater
March 18th, 2014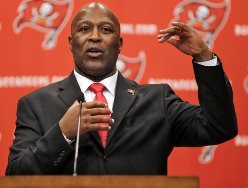 Yes, the Bucs could sure use a studly young quarterback, a potential "franchise" guy in the mold of division rivals Drew Brees, Matt Ryan and Cam Newton.
Draft lovers have been bombarded the past 24 hours or so with news that QB prospect Teddy Bridgewater was subpar in his Louisville Pro Day and is now in freefall on team draft boards.
Joe can only hope this is the case so Bridgewater can fall to the Bucs. But it's not reality. So what if Bridgewater didn't wow the crowd of scouts watching him throw scripted passes in shorts with no defense involved. Any NFL team interested in Bridgewater will bring him in for a private workout and run him through the ringer on the field. That's how they will evaluate him most outside of his game film.
Ryan and Peyton Manning are known for having so-so Pro Days. JaMarcus Russell looked like a legend at his. It's not a big deal.
The bigger story is the emergence of players like Khalil Mack, Jadaveon Clowney, Sammie Watkins and Greg Robinson into the realm of can't-miss picks. That improves the Bucs' odds of getting a shot at Bridgewater or Johnny Football — a shot Joe believes Tampa Bay has to take.
If you want to watch Bridgewater throw the football — some good, some ugly — Joe recommends the Kentucky TV news video below.