Penn's Magic Number: "315"
March 4th, 2014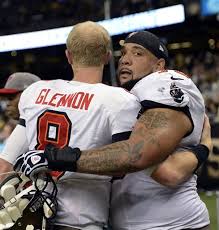 It's a safe bet Bucs general manager Jason Licht will not look at the hefty, non-guaranteed contracts of Davin Joseph and Donald Penn and rubber stamp both to return at their current pay grades. That wouldn't represent the "value" Licht says he covets.
One of those veteran offensive linemen, if not both, are sure to get a renegotiate-or-else call from their agents before the free-agency bell rings next Tuesday.
In the spirit of that reality, former Tampa Bay defensive end Steve White (1996-2001) detailed how the glazed-donut-sticky subject that has dogged Penn for years is the key to his future.
White told a WHFS-FM 98.7 audience that Penn's issue is "he just can't bend his knees" like he used to, in part, because of his weight. Penn is seen bending at the waist too much, per White, which limits his effectiveness. It's a function of age and wear making it too hard on Penn to be the player he once was at his current waistline, White said.
But White's not that down on Penn. He said if Penn marched into One Buc Palace to see Lovie Smith this afternoon weighing 315 pounds, then Penn surely wouldn't have to renegotiate any deal. The Bucs would be believers. White hopes those close to Penn have told him to "push himself away from the table."
Would Penn be a better player if he were 15 pounds lighter? Joe can't be certain. And, as Joe has expressed previously, Joe doesn't think Penn is the problem with the Bucs' O-line. Penn was average or better last season, and he's paid like an average starting left tackle in the NFL. Left tackle is a tough position to gamble on. Joe would focus on other areas.
Joseph is a different animal. He's got a pretty chiseled body but has a long history of injury and hasn't been any good since 2011. Joseph returning at his salary would be more about hope than anything else.
One thing that scares Joe: if the Bucs cut Joseph, then Joe's certain Joseph would land on the Falcons in a matter of hours. Atlanta is desperate for a new right guard.