Not Quite A "Clean Slate" For Mike Williams
March 26th, 2014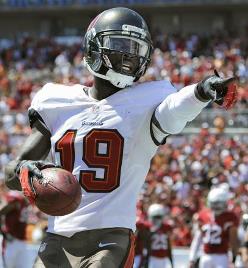 While dining on breakfast fare this morning with Lovie Smith, a reporter asked Lovie whether Mike Williams would basically get a "clean slate" along with the rest of the Buccaneers that will (should) be there when the team reports back to One Buc Palace on April 7.
"Clean slate?" Well, Lovie won't go that far.
Yes, Lovie told Joe and other media that Williams wasn't about to be skewered by his new regime for his past actions.
But Lovie cautioned that Williams the rest of the Bucs each have their own histories, and their past deeds carry weight with him, though not necessarily too much weight before he gets a chance to address the team and talk about football and team rules.
To date, by league rules, Lovie hasn't been able to do that. Lovie said he's talked to Williams and looks forward to starting the season with him.
Joe thought about typing up Lovie's various quotes from this morning on the subject; he was peppered with questions, but Joe's not going to invest the time.
The message was clear: Williams will have every chance to prove himself worthy of playing for his new head coach.