Lovie Mocks Mock Drafts
March 26th, 2014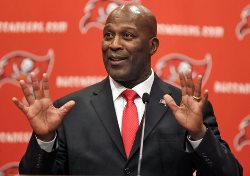 The Buccaneers' new head coach has said he spent lots of time during his year-long vacation last year listening to sports radio and soaking up all things that football fans enjoy.
However, Lovie made it clear today that he disconnects himself from inhaling media when he's a head coach, unless it's an attack on his players, coaches or organization. And, a solid six weeks from the NFL Draft, Lovie says he's had enough of the draft gurus.
Lovie had some fun with the concept this morning before Joe and other media at the NFL Owners Meetings in Orlando.
"Have I read your mock draft? I haven't," Lovie said. "Believe me, I've got mock drafts from grandsons, friends, all type of advice. I don't need anymore advice. If you knew all the advice I, of course, Jason [Licht] has gotten. We've covered it all. Believe me."
Lovie reiterated that all positions are on the draft table for the Bucs. And he's very involved in the draft process. He'll head to get an in-person look at Johnny Football's upcoming Pro Day in Texas.
Joe gets that mock drafts are pretty annoying and useless for Lovie. But they surely can be useful to a front office. Projecting how other teams will pick can be critical to the Bucs' overall strategy, as well as preparation for draft-day trades. Sure, teams rely on their well-paid, knowledgeable staff, rightfully so, but keeping the pulse of the league can't be discounted.