Lovie Did His Homework
March 13th, 2014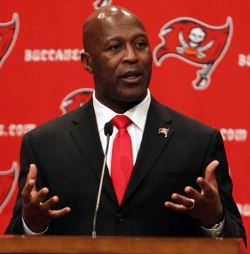 No coach wants to watch other teams play, unless they are prepping for an upcoming opponent or watching their kids play. Coaches want to coach.
After the Bears waved goodbye to Bucs coach Lovie Smith following the 2012 season, Lovie decided he was going to do some soul-searching, some self-scouting, toss ideas around with fellow coaches and come back ready to rock and roll for the 2014 season.
He just didn't know it would be with the Bucs.
One thing Lovie got ample opportunity to do was to watch football games both in person and on the couch, day and night. Several players caught his eye, and he noted their skills for his next coaching gig.
Wednesday at One Buc Palace, four of those men were sitting next to Lovie himself, being introduced as new members of the Bucs. Much of the credit for those players coming to the Bucs was that Lovie had done his homework.
"Again when you have a year off, you have a lot of time to watch a lot of video and watch a lot of different guys," Lovie said. "I did have a chance to – and not in detail the way Jason was able to, but I knew about them, all of these guys have a reputation and there's a reason why, not only the Buccaneers but others wanted them. We knew about their reputation and their play over a period of time and we got a chance to really finalize that in these last couple of weeks had an opportunity to watch them more closely and do a little more amount of research and just knew that they were guys that we wanted to add to our football team."
Part of the reason Team Glazer swung and missed on their last two coaching hires is that they waited to make a regime change. In the case of Greg Schiano, it was because they wanted to do due diligence and research, and other teams got the jump on Team Glazer in hiring more attractive candidates, thus, only leftovers were available — and leftover assistants.
This time, after the Bucs went 0-8 to start the 2013 season, Team Glazer wasted no time in its coaching search. The fact that Lovie was already doing his homework for a return to the game was icing on the cake.
This time, setting the agenda instead of following in the trail of other teams, is paying off for Team Glazer.