Bucs Will Coach Dashon Goldson
March 31st, 2014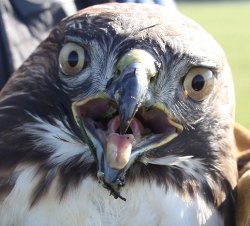 It was a big splash recently when Yahoo! Sports NFL writer Anwar Richardson detailed how Bucs safety Dashon Goldson, seemingly atop NFL warden commissioner Roger Goodell's enemies list for physical tackling, hired his old youth football coach in an effort to re-learn tackling this offseason.
Why was Goldson's going to this extreme? Well, it seems a combination of rule changes and not being coached up properly was making Goldson cough up his children's college education fund to NFL elders.
Bucs coach Lovie Smith seemed somewhat amused by it all and wanted to set the record straight. He told Joe and ESPN's Pat Yasinskas that, yes, the Bucs know how to teach tackling and Lovie and his defensive coordinator Leslie Frasier, among others, will do the coaching, thank you.
"The guys that will be coaching Dashon on tackling will be us," Smith said. "It will be me, it'll be [defensive coordinator] Leslie Frazier, it'll be [safeties coach] Mikal [Smith]. We'll be the ones that will be coaching all of our players. As a general rule, our guys will have one coach. While they're off, they can get as much help as they possibly can."

Goldson's tackling is an issue because he was fined nearly $500,000 and suspended for one game last season due to illegal hits. But Smith said he's confident he and his coaching staff can correct whatever problems Goldson has.
Lovie explained that Goldson hired his youth coach, in part, because team coaches are not allowed to work with players during the offseason unless it is a league-authorized OTA or minicamp. Lovie was encouraging of any and all players who want to improve themselves in the offseason.
It will be very interesting to see if the Bucs coaches can actually coach Goldson up to make legal hits, or could it be Goldson will actually buy in to what Lovie and his staff are selling?