Fletcher Earned Snaps, Green Dot
March 31st, 2014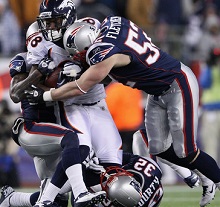 Joe's been doing his homework on the Bucs' new free agents, and Joe finds it noteworthy that newcomer linebacker/special teamer Dane Fletcher earned the confidence of the Patriots' coaching staff last season to the point he was awarded the infamous "green dot" for a brief stretch.
That's the lone helmet — marked with a green dot — that is delivered the defensive signal calls of the defensive coordinator/head coach.
And considering New England employs rather diverse defenses, and the fact Fletcher missed all of 2012 with a blown knee, that's speaks very well to Fletcher's football savvy, smarts and the trust he earned.
Joe's read estimates that Fletcher was on the field playing multiple linebacker roles for 15 to 20 percent of the Patriots' defensive snaps last year. And the majority came in midseason or later. He's definitely not just a training camp body on defense; his special teams prowess is well documented.
Lovie Smith told Joe and assembled media in Orlando that Fletcher liked the way the situation looked for him in Tampa before he signed with the Bucs.
Lovie was explaining that all prospective free agents crave playing time, and Fletcher liked his odds battling with Mason Foster. Lovie was clear that Fletcher was pegged for middle linebacker in the Bucs' new defense, though Fletcher played outside in New England. Doug Kyed of NESN.com speculated Fletcher could handle any position in Lovie's 4-3 alignment.
Fletcher sure seems like an intense competitor, likely an upgrade in that department to Dekoda Watson. Joe found this Fletcher quote interesting, via Comcast New England last year. "As Fletcher put it: You worry about yourself. You can't worry about other players and what their role is. If it's a younger [player] you try to help him out, but at the end of the day, it's their job to know what their responsibility is and we've all got to put it on our own shoulders."
Now Joe's not trying to overblow the value of a marginal linebacker. But Fletcher does have intriguing potential. Just the fact he thrived coming off an ACL injury in limited action is very promising. As Bucs fans know too well, that is no given.