Emmanuel Sanders Leaves Tampa Sans Deal
March 14th, 2014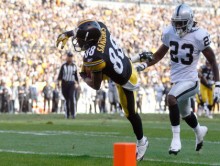 The Bucs' desperately need a No. 3 receiver, a No. 4 would be nice, too.
Steelers free agent Emmanuel Sanders, a speedy young man who caught 67 balls last season, was being wooed and courted by the Bucs in Tampa but now NFL Network is reporting he's spending Friday with the Chiefs.
Joe has a bad feeling Sanders won't leave Kansas City. They're desperate for receiver help, and they were desperate before Dexter McCluster bolted for Tennessee.
Lovie Smith and Jason Licht must keep searching as the free agent receivers herd is thinning, especially for slot receivers. Joe's wondering if the Bucs were in attendance in Wyoming when a potential slot guy ran a sub-4.3, 40-yard dash at his Pro Day.