Donald Penn Holds Key To Johnny
March 14th, 2014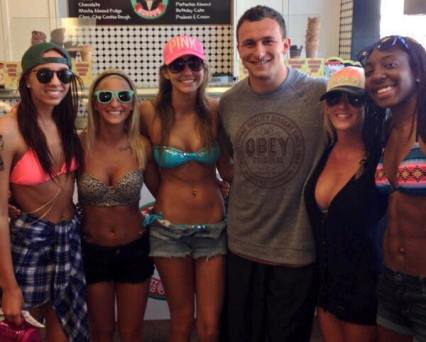 Yes, Joe knows full well the Bucs have a starting quarterback, no matter what gibberish the Josh McCown Deniers try to peddle. The cold hard fact is McCown turns 35 soon. Realistically, Joe sees McCown as a likely starter for two years, four years tops. Very, very, very few quarterbacks short of George Blanda win the NFL fight with Mother Nature.
Though Bucs general manager Jason Licht squirmed and bristled when anyone referred to or suggested McCown is a "bridge" to a new quarterback, Licht was frank when saying if there is a quarterback in the draft he thinks can help the Bucs or can be "the" guy, then Licht is going to draft him.
Which leads Joe to good guy Donald Penn, a former Buccaneer for not quite 24 hours. Penn is meeting with the Raiders in Penn's beloved hometown California, a rudderless team that needs offensive linemen worse than Joe needs a cold beer on a steamy Friday afternoon.
So what does this have to do with the Bucs and a quarterback?
If the Raiders don't sign Penn, clearly the best left tackle looking for work, then it is highly likely the Raiders draft a left tackle with the No. 5 pick. If the Raiders sign Penn, there need for a left tackle is filled and they are more likely to draft a quarterback. And yes, no quarterback seems to fit the Raiders like Johnny Football.
So if the Raiders  do not sign Penn, it stands to reason that's one less team shopping for a quarterback before the Bucs with their No. 7 overall pick. Hence, this increases the chances of Licht blessing the Tampa Bay area with Johnny Football.
Joe really, really likes Penn and wishes him the best. Joe just hopes Penn finds another team to sign with other than Mark Davis' wayward franchise.