Emmanuel Sanders And The Bucs
March 12th, 2014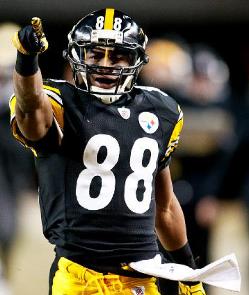 Now Joe is really starting to get excited. No, not as excited as opening his front door and seeing leggy Rachel Watson wearing Daisy Dukes with a revealing, low-cut number carrying a cooler full of cold beer. But excited nonetheless.
It seems Steelers wide receiver and roadrunner Emmanuel Sanders is visiting the Bucs. That's the word Joe got from NFL insider Jason LaCanfora of CBS Sports.
@JasonLaCanfora: WR Emmanuel Sanders set to visit the Bucs following his visit with the Jags, today.
Joe is pumped. You talk about a guy that not just can stretch the field but is also a lethal return man, wow.
Bucs offensive coordiator Jeff Tedford has talked about "speed in space." Sanders is that very speed Tedford discusses.
Not letting Sanders out the door would go a long way to soothe Joe's nerves about losing all-world cornerback Darrelle Revis.