Does Tedford See Aaron Rodgers In Bridgewater?
March 21st, 2014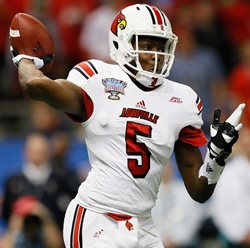 Everybody knows Jeff Tedford is an extraordinary college quarterbacks guru. The man pumped out a basket full of NFL first-round picks.
It's not on Tedford that a lot of those guys were marginal at best as professionals when they weren't under his tutelage. For Joe, that fact only enhances Tedford's reputation.
Bucky Brooks, the former NFL player who is now one of NFL Network's three supreme NFL Draft gurus, has penned a piece studying quarterback Teddy Bridgewater and has concluded Tedford is likely to see one of his old "Cal" students in the Louisville gunslinger. That would be Mr. Aaron Rodgers.
Tampa Bay Buccaneers (No. 7)

The Bucs are unlikely to take a quarterback early in the draft based on their recent moves, but Bridgewater makes perfect sense with former Cal coach Jeff Tedford onboard as the team's offensive coordinator. The wily coaching veteran has a knack for maximizing quarterback potential, dating back to his time in the college ranks. Additionally, the similarities between Bridgewater and Rodgers could make it easy for Tedford to build an offense that accentuates Bridgewater's strengths as a player. Given the big-time quarterbacks who occupy the stage in the NFC South, I could see Bridgewater enticing Lovie Smith and his staff on draft day.
It's hard to believe now that quarterback-obsessed, Bucs offensive wonder Jon Gruden, along with most of the NFL, passed on Rodgers coming out of college. That's just accentuates the wackiness and unknown of the NFL Draft
Will we be saying the same about Bridgewater?
Yes, he's got flaws, but there's a lot there to think he could become better than half the QBs in the NFL. Joe loves Bridgewater's leadership, consistency and grit, plus his experience in a pro offense. He's got a nice combination of skills. The Bucs would be lucky to get him.