Backup Glennon Has No Job Security
March 12th, 2014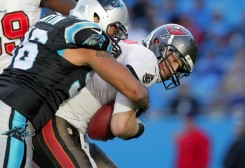 Buccaneers backup quarterback Mike Glennon's Tampa Bay career will be in jeopardy if the Bucs draft a quarterback this spring.
Lovie Smith made it clear to Joe today that he's not a three-quarterbacks kind of guy.
In fact, Lovie himself released Bucs new starter Josh McCown in Chicago in 2010. Lovie explained that move today by saying then Bears backup Jason Campbell just proved to be a little better than McCown. (Yes, that made Joe's stomach turn a bit.)
"Sometimes you have to go in a certain direction. As a general rule, most teams keep two quarterbacks on the roster. We had Jason Campbell who is good player. The numbers really kind of got [McCown] as much as anything," Lovie said of cutting McCown. "Even for us right now, the odds are we're not going to keep three quarterbacks on the active roster and that's what got Josh as much as anything. He did everything you need to do."
And that brings Joe to Glennon. If the Bucs draft a QB, a strong likelihood given McCown's age and the fact they've hired a renowned quarterbacks guru at offensive coordinator, then Glennon will be in big trouble.
No, Joe doesn't hate Glennon. Joe thinks Glennon performed solidly in his role last season. He proved he can be a sound backup and win some football games. But Glennon isn't Lovie's guy. That's just the cold reality of the NFL.