Warming To Khalil Mack
February 19th, 2014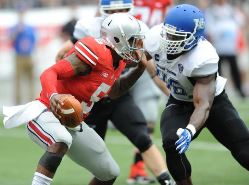 Joe has read many, many, many mock drafts by learned NFL analysts suggesting the Bucs draft an outside linebacker, specifically Khalil Mack of Buffalo.
Joe simply did not understand this. First, there is simply, no way the Bucs are looking to replace Lavonte David. Mack is not a middle linebacker. And on the other side, Dekoda Watson and Johnathan Casillas only manned the position for roughly 40 percent of the defensive snaps.
The rest of the defensive plays were in a nickel package where there were only two linebackers on the field.
Joe would hate for the Bucs to draft a guy at linebacker and try to transform him into a full-time, hand-in-the-dirt defensive end. Can he play the run with a hand in the dirt?
So, why in the world would would the Bucs spend the seventh pick in the draft on a part-time player?
Well, maybe because Mack wouldn't be a part-time player. That's the word from NFL analyst Mike Mayock. The pied piper of draftniks, Mayock conducted an exhaustive three-hour teleconference yesterday talking. He believes Mack is such a special player, that if the Bucs drafted him, he would never come off the field, so Mayock answered a question about Mack and the Bucs.
Q. Wondering about Khalil Mack, could he fit into a 4-3 scheme much like the Buccaneers are going to play, or do you think he's strictly an outside linebacker and a 3-4?

MAYOCK: No, I think he could play with his skill set and his ability to drop, his ability to… I think he could play SAM or WILL to be honest with you. He's 6-3, 248. You could line him up on a tight end and he'd be okay.

I think the important thing is that if you are drafting him as a 4 3 team you have to make sure that in nickel and sub situations, you're freeing him up to go get the quarterback and in today's NFL, because of the versatility in defenses, I think that's fine. 4-3 teams are doing all kind of different things in sub packages, and I think the most important — I think that's why I kind of changed the way I, the verbiage I use, and just call them edge shots — I think he's the most — after [Jadeveon] Clowney – I think he's the most gifted edge guy in this class, and I think regardless of your scheme, you need to draft them and play them.
If Mayock thinks Mack, in certain sub-packages, is an every-down player, who the hell is Joe to argue? So Joe is starting to warm to this concept of Mack being drafted at No. 7 — though Joe is hoping beyond hope someone at One Buc Palace has an epiphany and goes out and gets Johnny Football.
Joe could live with Mack playing linebacker and defensive end. And if this guy is that good, imagine him and David playing together? Wow.