Stock Dropping On Johnny Football?
February 14th, 2014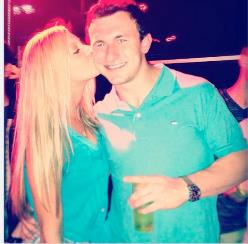 Since the Super Bowl, every last prominent NFL analyst has had little to do but dive into film study of potential free agents and draft picks.
Of course, that is drawing a massive spotlight to the 2014 quarterbacks class.
The flaws of the big names are being articulated, as it becomes clearer that there's no Andrew Luck/RGIII kind of prospect in the mix.
Uncertainty is in the air, and NFL Network talking head and former Texans and Redskins general manager Charley Casserly is even questioning the greatness of Johnny Football.
"Pocket discipline. When you watch tape on this guy, there are times I'm not sure what this guy sees. You've got guys wide open and, boom, he takes off and runs," Casserly said. "He may be a victim of his (own) ability to make plays running the football, so he doesn't stay in the pocket. I'd want to watch tape with him, what are you seeing, why are you running when you don't have to run?"

Manziel did a better job of staying in the pocket as a sophomore in 2013 than he did in his Heisman Trophy season of 2012, rushing for roughly half the yardage in his second year as a college starter while showing more pocket patience. Casserly, however, wants to see more.

"Clearly the other thing, you've got to get a handle on this guy's maturity. When he goes to the big city, it's not going to be College Station any more," Casserly said.
You can click through above to read more from Casserly and watch the video.
On the maturity front, Johnny Football did get a full endorsement — on and off the field — from a man who's been partying for nearly 50 years, Broadway Joe Namath.
Regardless of the varying critiques, Joe's on board with the Bucs making it happen to get Johnny Football. Regular readers here know this well. Joe, however, is not delusional; Johnny Football is not one of the greatest quarterback prospect of the last 20 years. But he is damn good, and he's definitely the right guy at the right time for the Bucs.
 Joe's actually excited by the heightened skepticism of Johnny Football. That can only help the odds of the Bucs landing him.