McCoy Lands An Impressive Endorsement
February 26th, 2014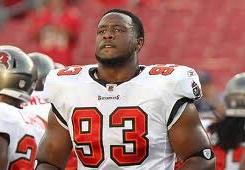 As the Bucs brass holds its collective breath to see how large Ndamukong Suh's new contract will be, a renowned defensive coach took to SiriusXM NFL Radio this evening and shared impressive words about Gerald McCoy — without being asked.
During an extensive interview on Movin' The Chains, Dave Wannstedt, the former Bears and Dolphins head coach, who also coached Bucs special teams last year and was a longtime defensive coordinator and a college head coach, made it a point to single out McCoy.
"Gerald McCoy, I'll say this. I've been around half a dozen Hall of Fame defensive lineman and, you know, Gerald McCoy is as good a defensive tackle as I've been around. We talked about those guys earlier that are first-, second- and third-down players. Gerald McCoy is that player."
The other Bucs defensive players singled out by Wannstedt were Dashon Goldson, Darrelle Revis and Lavonte David. (Tease alert: Joe will bring Wannstedt's damning take on the pass rush tomorrow.)
Wannstedt predicted McCoy will maintain his production this season and Lovie Smith will benefit from "good crossover from talent and scheme" from the Greg Schiano regime.
Interestingly (but not surprising to Joe), Wannstedt briefly touched on how much the injury to and eventual loss of wide receiver Mike Williams hurt the Bucs last season.