Jason Licht: Darrelle Revis "An Asset"
February 26th, 2014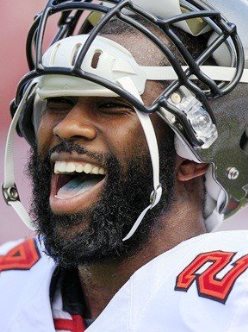 Joe raised an eyebrow yesterday when CBS Sports NFL insider Jason La Canfora claimed multiple NFL teams were calling the Bucs looking to pry away all-world cornerback Darrelle Revis. To be clear, La Canfora explained the Bucs were not shopping Revis, only listening to sales pitches.
All the while at the NFL Scouting Combine last week when people, not just Joe, spoke to Bucs general manager Jason Licht and head coach Lovie Smith, both were heard listing Revis among the major pieces of a future winning puzzle already in their possession.
It seems Andrew Brandt of SI.com was able to reach Licht following the La Canfora piece and it sure didn't sound like a guy who was looking to swap Revis.
@adbrandt: Tampa Bay GM Jason Licht: "Right now Darrelle Revis is an asset to this team." Translation: "Assets have value; we'll see."
Unless some team went completely crazy with an offer, for example, like two first round picks and a second this year, or a very high first-round pick that would guarantee the Bucs land Johnny Football, Joe can't see the Bucs getting rid of Revis. In 2012, the Bucs had the worst pass defense in the NFL. Even with a hobbled Revis and a rookie (Johnathan Banks) the Bucs dramatically improved their pass defense last year.
Do the Bucs want to revisit the nightmare of quarterbacks throwing at will on the them as if it was a 7-on-7 game? Do people not remember how Eli Manning sliced the Adderall Twins and the Bucs secondary apart like a hot knife through soft butter?
The Bucs spent a lot to get, at worst, the second-best corner in the NFL. Unless someone wants to go all Mike Ditka and trade away an entire draft, Licht should respond to inquiring calls, "Thanks, but no thanks."
Unless Licht knows something about Revis' knee no one else does.