Lovie Smith Talks To Joe
February 20th, 2014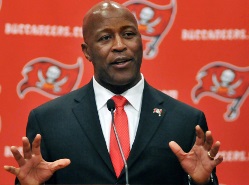 Lovie Smith is one busy man today at the NFL Scouting Combine in Indianapolis. Lovie's granting so many interviews today there probably isn't an aspect of the Bucs he hasn't talked about, short of what uniforms the cheerleaders will (not?) wear this fall.
Squeezed among these briefings, Lovie gave Joe a few moments of his time to talk, yes, Mike Glennon, Davin Joseph and Doug Martin.
JoeBucsFan: Understood that you don't want to comment on the past year in respect to the Bucs because you weren't here, but was Mike Glennon placed between a rock and a hard place, a bad situation? Maybe he wasn't ready to take over when he was placed in the starting lineup? You know, the team was winless for a long time; some say there was a lot of off-field drama involved. Maybe that is part of the reason some fans say he's not "The Guy?"

Lovie Smith: No, I can't say that at all. I would say, and I think you can ask Mike Glennon the same, if you have an opportunity to become a starting quarterback for an NFL team, it doesn't get any better than that whenever you can take it or get that opportunity. For Mike, it was a great situation. And I think he took advantage of it. I remember the first game he played and how he looked. What you want to see is improvement from the start to the end. And that's what we were able to see. We definitely saw that. Mike had his team with a 21-0 lead against the [soon-to-be] Super Bowl champions on the road. For a rookie to go into that environment and play that way? That's pretty impressive. I think [Glennon] is in a good place for a rookie. I am still going to say "for a rookie" because he still is a rookie. Even though we liked some things we have seen from him. Now, he hasn't played his best ball yet. That is what is exciting.

Joe: Davin Joseph. He's a stand-up guy. He's been to a Pro Bowl. He had an ugly knee injury prior to the 2012 season and had major surgery. Do you think maybe one of the reasons he struggled last year was he still wasn't quite back from that surgery? He kind of hinted at that and it seemed he played better in December. Could part of the reason he struggled be because he wasn't yet 100 percent?

Lovie: I think it probably does take a couple of years to properly come back from an injury like that. We are hoping that is the case. Davin will be the first guy to tell you he didn't play his best ball last year. We are hoping that is all in the past and now we will get the best Davin Joseph we can get.

Joe: On Doug Martin, from your comments earlier today, it seems like you don't want a bellcow back, that you want to have a running back by committee or a rotation…

Lovie: Oh, no. We want a bellcow. But along with a supporting cast. You need a one-guy and Doug is our one-guy. But he needs a supporting cast. We want a bellcow with a great supporting cast. That's what we have in our running back situation.