Carl Nicks' Running Is Limited
February 20th, 2014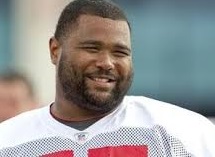 Bad news for those yearning for the human armoire, Carl Nicks, to make a full recovery.
Per the Twitterings of WDAE-AM 620 host Rick Stroud, Lovie Smith told him today the Bucs' massive left guard isn't sprinting or going all out in his rehabilitation from foot surgeries.
@NFLStroud – Smith on Nicks: "But he's not running full speed or anything like that. We hope so. I mean, Carl is a heck of a football player."
A decision on Nicks will very much shape the Bucs' offseason, but Joe expects Tampa Bay to wait patiently for Nicks to recover. Lovie's comments are a clear admission that Nicks is not healthy and, per FoxSports.com, the Bucs will owe Nicks more than $6 million for the 2014 season if he's cut while injured.