Lovie Smith Ranked No. 1(B)
February 15th, 2014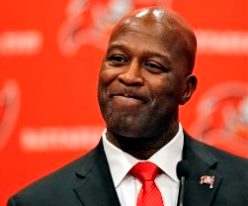 Since the dismal 2013 season ended, Bucs fans are trying their best to forget what turned out to be one of the more tumultuous and drama-filed seasons in franchise history.
First there was the MRSA outbreak and a kicker's wife blaming the Bucs for what ailed her husband, never mind he was getting paid a nice chunk of change to sit on his couch. Then there was the implosion of leaky Rip Van Freeman who tossed enough Molotov cocktails in the Bucs locker room to first get benched and then get run from his team.
The upheaval concluded with both rock star general manager Mark Dominik and commander Greg Schiano being jettisoned by Team Glazer.
Whew, that's a lot to forget. But if there is salve for the wounds of Bucs fans, it is the typing of Mike Clay of Rotoworld.com. He ranked all NFL head coaches, and while Clay did not include Bucs coach Lovie Smith because he has yet to guide the Bucs in one game, Clay believes Lovie is atop the list of new NFL head coaches.
1. Lovie Smith, Buccaneers
Career Record: 81-63 (.563)

Smith headlines what was ultimately an underwhelming group of new hires. Amongst three retreads, three coordinators and one college coach, there were no Marc Trestmans, let alone a Chip Kelly. But there were no outwardly bad hires, and if you're going to recycle a coach, it might as well be someone like Lovie. A true master of the 4-3, Tampa 2 defense, Smith produced four 10-win campaigns in nine years in Chicago. His downfall was his utter inability to find competent hands on offense. He's rolling the dice on novice NFL OC Jeff Tedford, who was a quarterback guru at Cal. Smith's defense will be fine. If Tedford can whip up a good offense — and not get plucked away in the process — Smith should be in for a long stay on the gulf coast of Florida.
That's pretty much the way Joe is looking at it. Joe has a lot of faith in Lovie — from the defensive side of the ball. Lovie will do fine there, and Joe even thinks Lovie can find a way where defensive linemen not named "Gerald McCoy" can actually breathe on opposing quarterbacks.
The offense? Well, Jeff Tedford has a lot of pressure on him. If he can somehow get the No. 32-ranked offense to average, say No. 12-20, Joe thinks the Bucs will have a very nice season.
But that's going to be a tough row to hoe.