Glennon Lands On Starters-To-Bench List
February 15th, 2014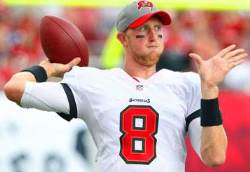 The fearless leader of the NFL's 32nd-ranked offense, Mike Glennon, was lumped into a group of quarterbacks that may be best suited to hold clipboards and get loads of preseason snaps.
Glennon did not get much love from former Jets personnel chief and linebackers coach Pat Kirwan in a recent look at quarterbacks for CBSSports.com.
It's intriguing reading on a few levels. Don't think teams are looking for magic at quarterback? Consider one factoid Kirwan rolled out: 16 rookie quarterbacks made rosters last year.
On Glennon, Kirwan doesn't put him in impressive company.
Who to bench?

A few teams will look at their 2013 starter and conclude he's really a backup. If the player has a cheap contract and is young enough, moving down in status could be the best option.

Terrelle Pryor, Brandon Weeden, Christian Ponder and maybe Mike Glennon fit in this group.
Of course, what matters most is how offensive coordinator Jeff Tedford and Jason Licht rate Glennon. Joe's quite confident defensive-minded Lovie Smith will defer to his hand-picked offensive guru.
While in theory Glennon will have a chance to win the starting job, if the Bucs sign Michael Vick or draft a mobile quarterback, then Glennon might find himself in an offense not designed to play to his strengths.