"I Think I'll Have A Lot More Freedom"
February 7th, 2014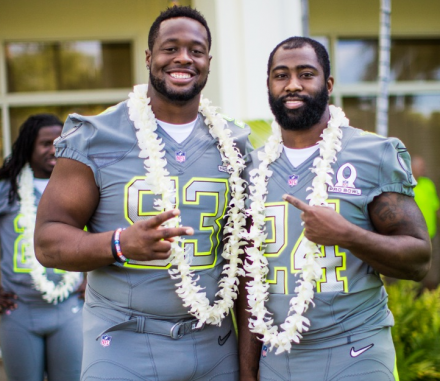 Now Darrelle Revis already told Joe in Hawaii that he's finally — finally! — 100 percent healthy. But it's another thing to know he's telling the same thing to his teammates.
Gerald McCoy talked about Revis and much, much more during an appearance on NBC Sports Network last night.
McCoy said Lovie Smith will be scrubbing clean the brains of the Buccaneers and dialing them back into the core beliefs of the Glory Days.
"Everything is about changing the mentality of the Bucs, bringing a different sense of urgency and just a different mindset to the team. They say it's going to be a track meet, meaning we're going to run on defense, McCoy said."
McCoy talked about what he saw studying old Bucs film and how he believes he'll" have a lot more freedom" and he and Lavonte David can duplicate Warren Sapp and Derrick Brooks within Lovie's defense.
The Bucs' star defensive tackle also shared a story about the Revis. "He pulled me aside at the Pro Bowl and looked me in the eye and said, "G, I'm back. I'm 100 percent. I'm back.' And I was like, 'Wow.' … I can't imagine the type of season he's about to have."
McCoy went on to call Mike Glennon "an awesome player."
"[Glennon] made his rookie mistakes, but what rookie doesn't?" McCoy asked.
Enjoy the full NBC interview below.