Down On Da'Quan Bowers
February 7th, 2014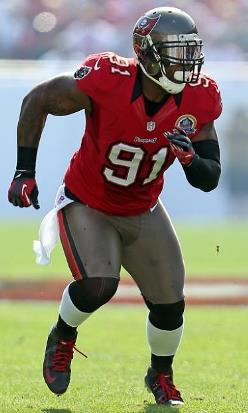 Joe is running out of angry analogies to describe his disgust with the Bucs' rank inability to dirty the jersey of an opposing quarterback. Of course, it didn't help that the Bucs virtually employed a square dance on passing downs. Defensive linemen did so many stunts it's a wonder empty-headed Nicole Zaloumis and the crew of that insipid "NFL AM" schlock didn't slobber over themselves the way they have such a dancing fetish.
ESPN's Pat Yasinskas was a witness to this drek as well (the Bucs' putrid pass rush, not the "NFL AM" show) and in writing about how badly the Bucs need a pass rush, indirectly pointed a finger at Da'Quan Bowers as one reason the Bucs couldn't breathe on opposing signal-callers.
This defense is at least pretty good everywhere else, but there's a dire need for a pass-rusher on the edge. No one can argue that the Bucs made a huge mistake last year by letting defensive end Michael Bennett walk away as a free agent. The thinking was that Da'Quan Bowers was ready for a breakout season. But Bowers couldn't even grab a starting job when it was handed to him.

The new coaching staff has said it still has high hopes for Bowers. But the reality is that if this team gets anything out of Bowers going forward, it will be a bonus. The Bucs can't afford to sit back and expect Bowers to emerge.

A defensive end – and we're talking one with top-notch pass-rush skills – needs to be targeted in free agency or the draft. Adrian Clayborn is solid at one defensive end spot and defensive tackle Gerald McCoy is a force in the middle. Add a strong pass-rusher and this defensive line could be excellent.
Joe is of the mind that this season may be a make or break for Bowers's career. He's a really nice guy but damnit, the Bucs aren't paying him to be pleasant (though it helps). Bowers is now on his third coaching staff and new general manager Jason Licht has zero ties to him. It's high time for Bowers to fish or cut bait.
If he is seen kneeling on the sidelines of training camp practices sucking air like he was this past summer, Joe's going to guess his job security is flimsy.
If a third coaching staff, one that has proven it can generate heat on quarterbacks, can't raise Bowers' level of play, then Joe wouldn't be shocked if Bowers is home for the opening day. No one calling the shots now at One Buc Palace is beholden to Bowers in any way.