Gil Brandt Loves Johnny Football
February 11th, 2014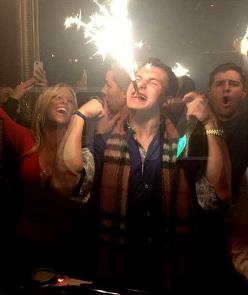 When Gil Brandt talks, Joe listens. The former Cowboys vice president of personnel for some 30 years was kind enough to chat with Joe about the Bucs at Super Bowl Media Day.
Brandt is very high on Johnny Football — ranked him the overall No. 1 college prospect — and believes the Bucs braintrust would not be making a mistake at all in grabbing the former Heisman-Trophy-winning quarterback. In fact, Brandt compared Johnny Football to a Hall of Fame quarterback he helped lure to Dallas. Some guy named Roger Staubach.
JoeBucsFan: Read where you are very high on Johnny Manziel. To Joe, some of his highlight tapes look like Roger Staubach when he played for Navy, the way he can make plays and his ability to escape. Manziel is like very few quarterbacks Joe has ever seen.

Gil Brandt: He does look like Staubach. Now Roger would probably kill me for saying this: But [Manziel] can probably make plays that Staubach couldn't make.

Joe: Really!?

Brandt: Oh, he's mind-boggling to watch. What he does is — you say, 'There is no way he can make a better play than that.' Then he does it. He rolls left and makes plays. He's down by 28 and brings his team back. He does all of these things. I like him a lot

Joe: A lot of people think he is small and frail and the way he plays he gets beat up. For example, the last couple of games of the season he wasn't playing so well and then he had a month off to recover and look what he did against Duke when he is healthy. Is that fair criticism?

Brandt: Well, he is 212 pounds and he has a very, very, very good lower body. I think that being a young, he will get stronger and he probably won't run [in the NFL] as much as he did at A&M.

Joe: Manziel seems to have a reputation as a party boy but it seems that his partying is going on once the season is over. You don't hear about his partying during the season.

Brandt: Well, I tell you what. He has great work habits and I think a lot of people exaggerate what he does. He is fortunate in that he comes from a family that has means which allows him to do things. I would imagine everybody is kind of envious of all the different things that he does, is what it amounts to. Don't worry about that. He will play football on Sundays.
Most of Joe's readers know where Joe stands on Johnny Football. Joe hasn't seen a guy put his team on his shoulders and carry them like Johnny Football has in a long, long, long time. Probably not since Eli Manning played (when was the last time, before or after, that Ole Miss was worth a crap until Eli Manning came around?).
Wouldn't it be nice for a change to be unable to sleep the night before a Bucs game because of excitement and not dread?
Wouldn't it be nice to see a breathtaking offense on the field of the Stadium on Dale Mabry Highway for a change? Wouldn't it be nice to not need a virtual All Pro-offense to hide a quarterback and instead have a quarterback able to lift his offense?
If the Bucs drafted Johnny Football, then this town would erupt like the locals haven't seen since Chucky hoisted the Vince Lombardi Trophy aloft in sweet, sweet victory.