Freeman Passes On Reputation Rehab
February 1st, 2014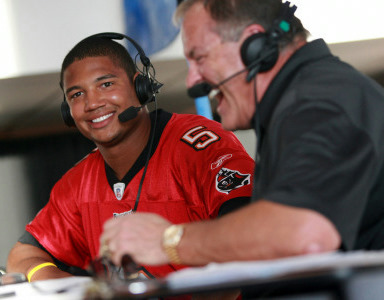 For a guy who desperately needs to repair his reputation before the free agency bell rings next month, Josh Freeman was noticeably absent on Radio Row at the Super Bowl this week.
Radio Row is where hundreds of local and national radio shows gather to broadcast live from the same giant room during the week leading up the Super Bowl. Truckloads of former and current players blow through and do numerous live interviews. Some are serving as paid spokesmen. Others are just hanging out.
Sleepy, leaky and well spoken (when he wants to be) Freeman could have done himself a great service telling his story across the country and sounding like the starting quarterback he wants to be. Good performances could have turned some powerful media back in his favor, generated buzz among fans in cities yearning for a QB, and he could have shaken hands with plenty of high-ranking front office types.
It really surprised Joe that Freeman skipped an opportunity to hype himself where it wouldn't appear staged or calculated.
Considering how Freeman's camp masterfully forced the Bucs to cut him, which subsequently got Freeman an extra $2 million+ in Minnesota, it's even more odd Freeman wasn't out there. Every decent sports radio station or network would have welcomed him.
Joe's not rooting for Freeman, other than Joe would like to see the young man revive his career and not waste his talent. That would be a shame.