Brooks Claims He Has Been Elected
February 1st, 2014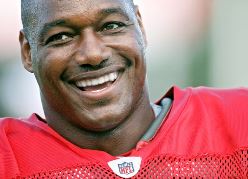 The Pro Football Hall of Fame is usually as secretive as the Vatican when it comes to its annual election of future inductees into Canton. So it comes as a surprise to Joe that everyone's favorite (former) player, Mr. Derrick Brooks, twittered he has been elected as part of the Class of 2014..
@DBrooks55: Thought of tonight is JOY, HUMILITY, and gratefulness, I'm in the Hall of Fame Now
Call Joe a pessimist, but the announcement is to be made at 7 p.m. Most inductees learn of their election via television, even last year, when Warren Sapp said he was watching the announcement. So Joe isn't sure how Brooks got leaked word or not.
Joe is going to wait until 7 p.m.ish before he cracks open a beer to honor Double-Nickel.