Who Pulls The Trigger?
January 25th, 2014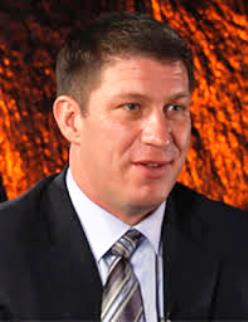 Bucs fans want to know. They want to know who was responsible for leaky Rip Van Freeman's meltdown (still a great mystery), who didn't want Michael Bennett (Greg Schiano), who didn't want Wallace Gilberry (Schiano); who gave what orders at what time.
Bucs fans demand coaches and front office suits be transparent. Sadly, the Bucs, much like Team Glazer, do not work in the public eye and trying to pin down who exactly wields the power with what decision at what time at the new One Buc Palace (mostly Lovie Smith) is something the Bucs will never fully admit, despite fans desires.
It's not an unreasonable request for fans who invest so much in their team. But short of a team being run by one man (such as Bill Belicheat with the Patriots), NFL teams rarely if ever let fans behind the curtain.
When pressed for such information, new Bucs general manager Jason Licht dodged the question of who has precisely what power when he met with the Tampa Bay pen and mic club in the Bucs media workroom Thursday. But he did give Bucs fans a peek behind the scenes.
"I really do [think too much is made of the power structure]," Licht said. "I can think of eight teams in the same situation that we are. I don't want to get into the nuts and bolts of it but [Licht and Lovie] really are a partnership. We work together. If we can't come to a decision we move on to the next decision.

"He is going to put a lot of trust in me and my staff to come to a consensus. It's not like Lovie can watch 600 and some players. Coaches can't watch 600 players. That will be our job. We will weed out the top players. I will tell him who we should draft and [Lovie will] watch him and if he agrees, we will do it."
Look, Joe has written this time and before. One reason Lovie was hired so quickly was that he got what he wanted: influence and power. Though Lovie has dismissed the power setup, he clearly wanted a guy sitting at the general manager's desk that he knew he could work with.
Bucs co-chairman Joel Glazer all but confirmed this when Joe asked him Thursday how involved Lovie was in the GM interview process, and Glazer told Joe he was very much involved.
Would a coach who did not wield influence be involved in interviews for a new general manager?
In a light moment with reporters, Licht admitted it is written in his contract with Team Glazer who is in charge but he dismissed the clause as trivial, reiterating decisions will be a team effort.