Turnover Teacher Lovie Has Educated Students
January 13th, 2014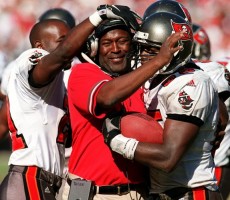 Greg Schiano and Lovie Smith do have something in common. Both were fired after seasons in which their defenses did an incredible job forcing turnovers.
Lovie's Bears led the NFL in turnovers in 2012. Last season, Schiano's Buccaneer Men were third in the league.
Humble Lovie did very little boasting when he was introduced to media and fans last week at One Buc Palace.
But Lovie did flash pride about his Chicago defenses on a few occasions. Why? Because they took away the football like nobody else, he claimed.
Here's a snippet of a Lovie address, as transcribed by Buccaneers.com:
"… but with our system of single-gap football, passing downs being able to mix in a little bit of Cover-Two, but for us the thing that dictates whether you win or lose each week the most will be turnover ratio. As you look at our time in Chicago from 2004 and on, on the defensive side, we took the ball away more than any team around – that didn't just happen by chance. It'll be the way that we practiced it and the mindset that we'll have for our players. [I] don't know exactly what all went on this past year, I just know that we're here now and we're going to evaluate of course the scheme, but more the personnel."
It's true that Lovie's Bears teams did a great job forcing turnovers. They finished top-six in the NFL during six of Lovie's nine seasons as head coach. Joe just doubts Lovie's emphasis on turnovers is going to represent much of an impact to the returning members of the Bucs defense. Schiano had all kinds of daily focus on turnovers,and was successful in that area.
Turnover ratios (giveaways vs. takeaways) was another bizarre feature of Schiano's Bucs. They were great at protecting and seizing the football but couldn't win games, which is a rare combination in the NFL. It was an indicator of the ineptitude of the Bucs coaching staff and the impotence of the offense.
Lovie may not be an offensive mind, but he's still a strong overall NFL head coach. Joe looks forward to watching games in which the Bucs don't get routinely outcoached.