Luke Stocker: "Enigma"
January 13th, 2014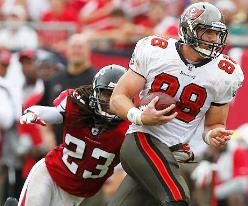 Jiminy Christmas! Bucs tight end Luke Stocker (remember him?) is such a puzzling figure that they don't know what to make of him over at One Buc Palace.
Scott Smith of the Bucs' official website calls Stocker an "enigma" in his latest piece on Bucs returning from injured reserve.
The New Schiano had high hopes for Stocker last season. He put on a load of muscle in the offseason and worked through the summer regularly with Josh Freeman, but Stocker pulled a calf muscle while training for Greg Schiano's renowned conditioning test — 16 100-yard sprints.
Stocker eventually recovered slowly but was lost quickly to injured reserve with a hip injury after playing in two games.
TE Luke Stocker (IR)

Stocker is undoubtedly the biggest enigma on this list. The Buccaneers picked Stocker in the fourth round in 2011, trading away an additional fourth-round pick in order to move up on the third day of the draft and make sure they didn't miss the former Tennessee standout.  Tampa Bay employed Kellen Winslow at the time but envisioned Stocker becoming the sort of two-way blocking/pass-catching tight end who could eventually supplant the veteran. The Bucs let Winslow go during the 2012 offseason, and Stocker has had two seasons to try to establish himself as the starter.  Unfortunately, he hasn't been able to stay healthy, and he missed all but two games this past season with a hip injury.  Because that position is so unclear for the Buccaneers heading into 2014 – even if Tim Wright is the real deal, a team needs more than one competent tight end – Stocker can't be ruled out.  However, he'll obviously have to prove he can stay healthy for an extended period of time.
Stocker, a 2011 fourth-round pick, is a hard-working type who's smart enough to know this season likely is his last shot in the NFL. The guy seems to be always hurt or banged up, but he's also one of those big-body dudes coaches often drool over. (He's listed at 6-6, 253 pounds on Buccaneers.com but he was a chiseled 265 when he got hurt.)
There's not a heck of a lot of recent film on Stocker, but he was on the field blocking for Doug Martin and catching 16 balls in 2012. Maybe Lovie Smith and friends will see enough promise to consider Stocker in the mix. But how could a new regime possibly count on Stocker?