Report: End Did Not Surprise Mark Dominik
January 11th, 2014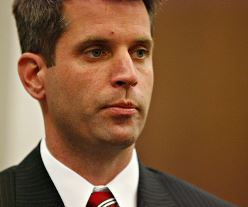 Joe is a little late on this interesting tidbit. Joe apologizes.
Prior to losing to the Saints to end the season, former Bucs rock star general manager Mark Dominik knew the end was near. It was just a mere formality when Team Glazer asked him to clean out his desk, per the Custodian of Canton, eye-RAH! Kaufman of The Tampa Tribune.
During the weekly "Kaufman's Korner" with the one and only Chris "Mad Dog" Russo on the show that bears his name, "Mad Dog Unleashed," heard exclusively on SiriusXM Radio, Kaufman noted Dominik was getting damning feedback from Team Glazer prior to the season finale, indicating that his two-decades-long tenure with the Bucs was minutes from ending.
"I saw the general manager before the game, Mark Dominik, and I didn't like the vibes I was getting. He had just come from the field, Chris. Now listen to this: He had just come up from the field where the Glazers were wandering around, as they do, an hour before the game, and they had a talk. But you know what? Mark Dominik wasn't getting the answers he wanted, he wasn't getting the assurances he wanted from ownership. Chris, when I saw him a few moments before kickoff — and this was my way of telling you that game had nothing to do with firing Schiano and Dominik, that was in the works before the 42-17 pasting.

"I felt they were tied. They were both going to stay or both going to go. I think both men felt that way and I felt even before that game the decision had been made they were gone."
So the final game did not determine Schiano's fate. There was word that the Bucs reached out to Bill Cowher back in October to take over the team.
The demise of Dominik was still a surprise to Joe. Remember, you crazy Father Dungy lovers, you know who you are, the ones that still insist with this nonsense that Chucky won with Father Dungy's players, you better be saying the same thing next year if Lovie Smith wins — that Lovie won with Dominik's players.