Strahan: Warren Sapp Is A "Sheep"
January 29th, 2014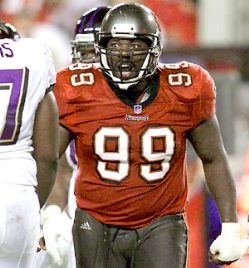 Yesterday, former Bucs great and Hall of Famer Warren Sapp held court for a handful of reporters at Super Bowl Media Day during the stampede to the trough a luncheon in-between team sessions of the annual NFL festival of frivolity.
Sapp, never ever at a loss for words, was prodded by Gotham media types to rekindle his loathing for all things Michael Strahan. And when teed up, Sapp didn't disappoint.
But this time, Strahan, who usually takes the high road when Sapp calls him out, raked Sapp over the coals when he learned of Sapp's latest barrage, recounts Zach Braziller of the New York Post.
"[I'm] glad he doesn't have a vote," said Strahan, one of 15 finalists who will be considered for enshrinement in the Hall's Class of 2014 when the selection committee meets on Saturday morning, during a press conference of Fox Sports' on-air talent at the Sheraton in Midtown. "A tiger does not pay attention to the opinion of a sheep.

"I'm all hype," said Strahan, 42, tongue planted in cheek. "I lasted 15 years on all hype, 141 1/2 career sacks, all hype. I was always a starter, coaches put me out there, because I was just hype. I played left end, and that made me get sacks.

"I don't understand what the problem is, to be honest with you," Strahan said. "I'm not a coward to talk to somebody else when I have somebody's number. I'm going to come to you and tell you I have a problem."
It's cool to see Strahan now finally get worked up after Sapp has blasted him time and again over the years.
What Joe would love to see is if Strahan can get Sapp on his show with cutie Kelly Ripa, or if Strahan can confront Sapp on the NFL Network, and the two throw down WWE style.
Now THAT would get a helluva lot more eyeballs to the NFL Network that constant friggin' dance talk.