More Assistants Named
January 9th, 2014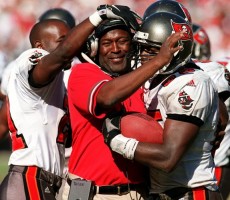 This evening the Bucs announced/confirmed the hiring of more assistant coaches under Lovie Smith, new offensive coordinator Jeff Tedford and defensive coordinator Leslie Frazier.
Here are the names/positions:
Marcus Arroyo: quarterbacks
Joe Cullen: defensive line
Andrew Hayes-Stoker: wide receivers
Dave Kennedy: head strength and conditioning
Larry Marmie: senior defensive assistant
Hardy Nickerson: linebackers
Kevin O'Dea: special teams coordinator
Mikal Smith: safeties coach
Tim Spencer: running backs coach
Ben Steele: offensive quality control
Matt Wiegand: assistant offensive line coach.
Presumed offensive line coach Tony Sparano was not part of the official release.
Hayes-Stoker seems like a curious hire at wide receivers coach. He's 34 years old and was a college fullback/running back. He worked as an assistant wide receivers coach with the Bears under Lovie Smith before leaving for a running backs coach job at Florida International University last year.
Joe doesn't know the guy, but one would think Tedford would have had a more seasoned receivers coach to turn to.