Building A Staff
January 9th, 2014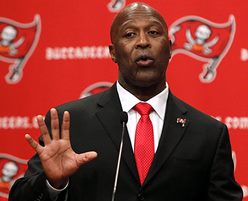 Continuing his impressive media tour of just about every NFL outlet known to the free world, new Bucs coach Lovie Smith recently appeared on "Late Hits," co-hosted by Alex Marvez and Bill Polian, heard exclusively on SiriusXM NFL Radio.
Lovie and Polian, the longtime Colts general manager, seemed to bond when the two discussed how much Lovie learned taking a year off from the NFL and how difficult it is to construct a coaching staff.
To hear some of the interview, click the orange button below.