Lovie Has Final Say
January 5th, 2014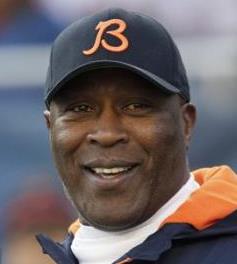 It's no real shock to Joe that the speed in which Team Glazer closed the deal on hiring Lovie Smith meant Team Glazer threw in all their chips. This was clear when Lovie didn't explore all his options to interview leaguewide for head coaching vacancies.
One way to keep a candidate from walking out the door without a signed contract is to make him an offer he cannot refuse. And apparently, Team Glazer did just that, giving Lovie full control of the Bucs roster, so claims BSPN insider Adam Schefter.
Lovie Smith's contract contains a clause that gives him final say over all personnel matters on the Tampa Bay Buccaneers' 53-man roster, according to league sources.

That control is something Smith did not officially have in Chicago when he was the Bears' head coach.
And, per Schefter in the same link, Lovie is also picking his own general manager.
Joe isn't exactly comfortable with this, and it isn't because of the greasy chicken wings and beers he had last night. Joe has always been a checks-and-balances kind of guy. Joe always chuckles when he hears people whine about Washington politics being in gridlock. Joe calls that constitutional checks and balances and believes it is healthy.
Joe has a bit of a reservation about a guy with only one Super Bowl appearance having complete and total authority on all things football. Hell, Chucky had to battle Rich McKay for personnel issues.
To be fair, Team Glazer gave Chucky full control over his roster late in his Bucs tenure, and it appears former Bucs commander Greg Schiano had final say on his 53-man roster, if you add up all the nuggets of information that leaked out of One Buc Palace in recent months.
It wasn't Mark Dominik who chased off roughly 20 sacks this past season?