Father Dungy And The Bucs
January 5th, 2014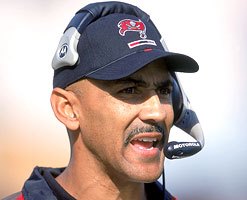 Now in this CBS Sports video, popular sports radio and television personality Adam Schein, Jason La Canfora and Amy Trask discuss the Lovie Smith hiring and how Team Glazer had reached out to Bill Cowher in November to take over the team.
This tells Joe that Team Glazer had hit a boiling point from the 0-8 start by the Bucs along with the mess started by leaky Rip Van Freeman, and long ago decided former Bucs commander Greg Schiano's fate.
But also in the conversation, La Canfora brings up the possibility Team Glazer is trying to recreate the image of the Bucs by going to the wayback machine nearly two decades ago, when Team Glazer hired Tony Dungy.
La Canfora floated the possibility that Father Dungy may accept a position with the Bucs (watch the video for evidence).
Now Father Dungy has several times said he is done with football, as recently as a week or two ago. But that doesn't mean he may not accept a position as a consultant. Joe has always felt Father Dungy would be a tremendous front office man. Just look at his coaching tree. The man had an uncanny knack for picking really good (defensive) assistants.
A problem for Team Glazer would be they also would have to find a consultant to seek input on the offensive side of the ball.