Licht Preferred Bucs Over Dolphins
January 25th, 2014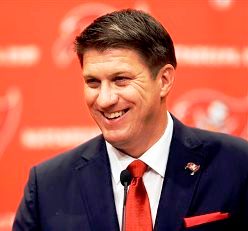 About once every Olympic year, Bucs co-chairman Joel Glazer grants the local pen and mic club unplanned time to discuss the Bucs. Thursday afternoon was one of those days.
One of the reasons Glazer wore a smile on his face was that he and his family had real competition from the Dolphins in vying for the services of new Bucs general manager Jason Licht.
In the end, Team Glazer didn't have to sweat. Licht wasn't exactly won over by the Dolphins, though the club wanted to continue interviewing him.
"I had lengthy conversations [with Team Glazer]," Licht said. "I was in the Miami hunt for the general manager's job; they wanted to extend those talks. I thought [the Bucs opening] was way more comfortable for me than [Miami]. That's going to be a great job for somebody. But I felt more comfortable [with the Bucs] and thought this would be a better fit."
Now a cynic would suggest just about any job sans the Browns is a better gig than the messin Miami under star-struck owner Stephen Ross.
Patrick Nohe of the Miami Herald Twittered not along ago he has seen the dumpster fire of a general manager's search in Miami before. It was a Scooby Doo episode. After the evildoer was captured by Shaggy and Daphne, the mask was ripped off the would-be ghost and the culprit was none other than Jeff Ireland.