Jimmy Garoppolo's Stock
January 23rd, 2014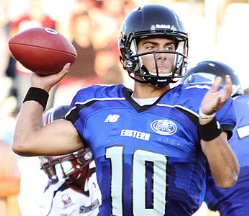 It seems that the hyped quarterback from the smaller school isn't over-hyped after all. That's the vibe Joe is getting from Senior Bowl reports. That's where Eastern Illinois's Jimmy Garoppolo is competing with the big boys this week.
In this NFL.com video, former NFL scout Daniel Jeremiah talks about Garoppolo and gives his hunch where he could be drafted.
Yes, Joe has a bit more of an interest in Garoppolo than, say, Derek Carr, because "this Joe" is a graduate of the same higher institute of learning as Garoppolo. The comparisons to other "Eastern" (as natives of the Land of Lincoln called Eastern Illinois) quarterbacks such as Sean Payton (he was a scab player with the Bears) and Tony Romo may be unfair, especially to Romo. Not every dude who went to college in Charleston, Ill. can be expected to bed Jessica Simpson, Carrie Underwood and Miss Missouri (Romo's current wife).
But last week when Joe talked to June Jones, the offensive coordinator of Garoppolo's team in the East-West Shrine Game, Jones raved about Garoppolo's accuracy. Joe remembers talking to Bill Cowher last year at the Super Bowl Media Day about then Bucs leaky quarterback Rip Van Freeman and Cowher told Joe quarterbacks can't really be coached up for accuracy. Either they have it or they don't.
Garoppolo has it.
Joe isn't trying to knock Garoppolo but when he watches him he sees Case Keenum. Garoppolo, Joe believes, would be a developmental pick and he might just be best used in a west coast system.
Joe would love to see how Garoppolo does throwing deep passes in Saturday's Senior Bowl.