Yesterday, Today And Tomorrow
December 9th, 2013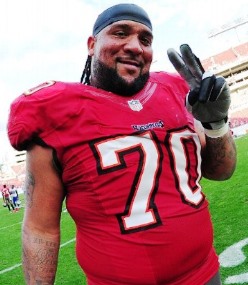 A long look at the Bucs yesterday, today, and what to expect tomorrow and beyond.
Joe thinks it is neat that the Ironman of the Bucs, Donald Penn, has Bucs commander Greg Schiano's back. Of course, this is bad news for the Schiano haters.
Penn's thoughts just reinforce what Joe had heard from other players in the locker room, and, in fact, proves what many thought: That the Bucs, despite going 0-8, never gave up on the season. They never tanked a game. That right there shows how much respect the players have for Schiano. Otherwise, the Bucs would be pulling a Washington Redskins, who already have the U-Hauls backed up and the January vacations booked.
This also speaks to what a standup guy Penn is.
Bobby Rainey
Now Joe isn't trying to stir things up here. Doug Martin is the Bucs' bell cow. It is no more complex than that. But the way Rainey runs the ball, and Mike James before him, that shows how much depth there is at running back in football circles.
Rainey has simply been impressive since Bucs rock star general manager Mark Dominik found him walking the sidewalks. Just think how deep the Bucs will be next year at running back?
The Bucs are so deep, though Joe doesn't expect it, one of those backs not named "Martin" could be used in a package deal to move up in the draft during the three-day NFL Christmas-in-May special.
Lavonte David
Just how special is he? It is really interesting to see how veterans like Darrelle Revis and Gerald McCoy simply gush over David. Joe noticed yesterday Schiano said, in so many words, if you had to custom order a linebacker, David would be the prototype because he does so much so well and is so versatile.
Joe never dreamed he would see the next Derrick Brooks, but that's what Joe is watching on Bucs Sundays. It really is something to watch.
This is one of the few times where Joe pats himself on the back. Joe's pretty sure he is the first guy locally to campaign for Dominik to draft David. Feel free to check Joe's archives for evidence.
Will Gholston
Joe's going to have a post on this later this morning, but what a draft class the 2013 selections are shaping up to be. Joe was excited about the Bucs drafting defensive lineman Will Gholston in the fourth round because, physically, the guy is a beast. Plus, he's so smart and articulate. Good guy who came up from really humble beginnings.
Joe remembers talking with former NFL quarterback Jim Miller, an analyst for the Chicago Bears and Michigan State games, and SiriusXM NFL Radio, who bragged about Gholston's potential. Miller told Joe that Gholston, while physically gifted, needed to blossom under a rigid program in the NFL, and Miller though Schiano was the perfect fit for Gholston.
The guy seems to get better every week. He got his first sack in his first NFL game against Miami and every week Gholston has played more, and produced more.
Draft
Joe knows many Bucs fans are beating their heads against the wall this morning. A few weeks ago, it seemed a lock the Bucs would have a top-three pick in the draft. Now, by winning four of their last five, the Bucs may be lucky to finish with a top-10 pick.
This has to be driving fans absolutely out of their minds if they were pining for Teddy Bridgewater or Jadeveon Clowney or Jake Matthews. Those players seem like a pipe dream now.
Mike Glennon
Joe is wondering if opponents are getting a book on Bucs quarterback Mike Glennon? That's two straight games where Glennon looked every bit the rookie quarterback he is.
Joe doesn't expect Glennon to do too much against the punishing 49ers defense. It will be very interesting to see if Glennon can bounce back in two weeks against decent pass rush at St. Louis.
The Bucs Are Cured
Leave it to the leader of the secondary pack, Darrelle Revis, to declare the Bucs have cleansed themselves of the stench that was the Bucs for the first eight weeks of the season.
Joe can surely say this: He cannot remember the last time the Bucs had so many sacks and forced turnovers in one game. Wow, EJ Manuel really has a long way to go. Is there any wonder why former Bills general manager Buddy Nix "retired?"
"The Spark"
Joe thought it was cool how so many defensive players lauded Rainey for getting the team started with an 80-yard touchdown run on the second play from scrimmage of the game.
This reminded Joe of how much Warren Sapp used to love to watch Mike Alstott run the ball.
Joe's NFL Thoughts
Jags: You think the Bucs are messing up their draft next spring by winning? How about the Jags? It appeared they had an absolute lead pipe lock of a first overall pick. That's down the drain now that they won again last week, beating the hapless Texans. It was so ugly Gary Kubiak was launched. What are the odds the Texans, always in competition with the Cowboys for eyeballs, draft Johnny Football from not-too-far-away College Station? It would be the Texas equivalent of making a backpage splash in New York.
Crows: Their veteran leadership and big-game savvy is really showing winning a crazy finish in the snow. Joe is pretty sure they are a playoff team.
Bengals: The win over the Colts proves that the Colts are simply not the same team since Reggie Wayne blew out his knee. And all Andy Dalton does is win and get his team to the playoffs.
Packers: Not a shock the Pack beat a dome team in the frigid, snowy conditions at Lambeau Field in December. Now the Packers get Aaron Rodgers back, just in time. If the Packers run the table with Rodgers – very possible – they could win the NFC North.
Patriots: Did anyone really think Bill Belicheat was not going to pull that game out yesterday? And what's this nonsense about Belicheat being mad at how Rob Gronkowski was tackled when he blew his knee? Hell, when Joe was in high school, that was textbook tackling. If the NFL doesn't want players going headhunting, reverting to 1970s tackling is going to happen. Make up your mind, NFL commissioner Roger Goodell, either you don't want concussions or you don't want blown knees. Can't have both.
Jets: Is there a more Sybil-like team in the NFL than the Jets? One week they are horrid beyond words, the next, they look like a playoff team. Joe's thrown in the towel trying to figure this team out. And you wonder why New York folk are nuts?
Eagles: Pretty good beat down of the Lions in a blizzard in Philadelphia. Hard to see them not winning the NFC East. Hard to see how the Lions keep Jim Schwartz if they miss out on the playoffs (again). That team is loaded with talent. Terribly underperforming.
Dolphins: Pretty impressive for a South Florida team to go to the snowy north and gut out a win against a team still alive for the playoffs. Of course, the Dolphins came inches from losing on the final play. But, hey, a win is a win.
Chiefs: The tribe from Kansas City pretty much has a wild card locked up. Not sure if there was anyone in the house at FedEx Field who wanted to be home more than Mike Shanahan, who has mailed it in and his team has quit — something his secondary coach knows all too well first-hand.
Broncos: They will host an AFC title game – and get beat – because that's what Peyton Manning does; a regular season immortal.
Cardinals: Joe has been impressed with the job Bruce Arians has done with The Flock. They, too, still have a prayer of a playoff game. Pretty impressive doing this with broken down Carson Palmer.
Chargers: Not (yet) mathematically eliminated, the Chargers are hanging tough. Philip Rivers threw for 249 yards and three touchdowns. He's having a nice bounceback season.
49ers: What a great game yesterday against Seattle. Joe knows the Bucs like to play smashmouth football. Well, they will get their chance next week in the home finale for the Bucs with the 49ers. The way they have been playing since Michael Crabtree has returned, wow, Joe's not sure about that elusive fifth win for Bucs commander Greg Schiano coming next weekend.
Saints: How impressive were they last night chain-whipping the Panthers? Just simply dominating. That Saints team is a different squad in that crazy dome in NOLA.
Joe's non-NFL thoughts:
1) So it is. Florida State vs. Auburn for the national title. Joe's thinking it's going to be a shootout. Florida State is friggin' loaded on offense and Auburn cannot be stopped offensively. Add on the Heisman jinx, and the friggin' SEC wins. Again. Gets so damned old. Joe's about ready to do with college football what he does (mostly) with baseball: If the Yankees or Red Sox are in the postseason, Joe doesn't watch. Once the baseball regular season is over (unless the Redbirds or Rays are playing), he's done with it for the year.
2) Leave it to that scumbag of frauds, Urban Meyer, to louse things up. Losing to Sparty, really? What an absolute poser this Meyer is.
3) Florida State's best chance to win a national title went poof the moment Sparty won Saturday. Florida State would have boat-raced Ohio State, pure and simple.
4) What is wrong with you, Jim McVay of the Outback Bowl? You passed up Johnny Football to get a boring LSU team without their starting quarterback? You had a chance for an easy sellout with Johnny Football. Just for that, Joe hopes there's a 12-team playoff around the corner. What do you have to say for yourself? Speak!
5) As far as Auburn beating Missouri? Eh, it's Missouri.
6) Why is it Mark Dantonio always looks to be constipated? The very rare times he smiles, he looks like Mr. Burns.
7) Texas A&M playing Duke in the Chicken Bowl? That's a joke, right?
8) Game of the weekend was Oklahoma beating Oklahoma State in icy Stillwater. Fun game to watch. Gamblers were slitting their throats over the last-second touchdown by the Sooners that the Cowboys absolutely gagged on. It was so bad Pistol Pete wanted to shoot himself in the crotch. Let's just say Gerald McCoy was one happy camper about the result.
9) Minnesota is playing Syracuse in the Texas Bowl? With a game like that, Texas may want to cede from the Union and rejoin Mexico. If Minnesota is playing Syracuse in a September noon game on BSPN2 with Pam Ward, and the choice you have is watching that game or doing yardwork, you are mowing the lawn. Don't lie.
10) Joe caught hell Saturday night on Twitter when he took umbrage to outraged FSU fans who were bent at Heather Cox for asking Famous Jameis about his legal battles. Joe noted if FSU didn't want the questions asked, then the FSU media director or his associate, who was standing right by Winston, could have stopped the interview right away. Instead, he/she gave her rope. Cox, thankfully, is supposed to ask tough questions, not be a cheerleader/slurper that a certain local sideline princess is. Welp, turns out, per SI.com, FSU approved the interview before the game with no restrictions.