2013 Draft Class Shaping Up
December 9th, 2013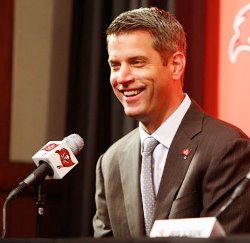 There were lots of things to like about the Bucs defense yeterday.
The offense, well, Joe won't go there, other than to say it seemed the offense could have used some 10w-40.
Guys were making plays all over the field on defense, veterans, young players, and rookies. Yes, rookies.
Johnthan Banks had an interception and is playing solid ball of late. Defensive lineman Will Gholston was making his limited presence felt whether it was tackles, sacks or a batted down pass.
This made Joe want to peek back at the 2013 draft.
First round (traded for Darrelle Revis): Now that Revis is nearly 100 percent, he's playing pretty well, don't you think? He had a helluva stick yesterday to force a pick and channeled Ronde Barber with a sack.

Second round: Banks, now entrenched as a starter, playing really, really good football, despite getting the MRSA.

Third round: Quarterback Mike Glennon, though he's had a couple of hiccups the past two games, has played better than most anyone dreamed.

Fourth round: Akeem Spence, defensive tackle, has started every game and is an undeniable upgrade from Roy Miller. He is helping keep bodies off Gerald McCoy and the results speak for themselves.

Fourth round: Gholston, who continues to get better and better. Another solid player who is learning and growing.

Fifth round: Steven Means. Though the Bucs still think he can make a difference, with the emergence of Gholston, Means is now a fixture on the inactive list. Jury is very much out on Means.

Sixth round: Running back Mike James did a helluva job replacing the injured Doug Martin until James himself was injured. A steal in the sixth round.
All in all, it seems the 2013 draft, while not as sexy as the 2012 draft, looks to be pretty damned solid. Five starters and possibly six (including Revis) came from this draft. That's strong.
Damn that Bucs rock star general manager Mark Dominik!