Why Chip Kelly Turned Down The Bucs
December 4th, 2013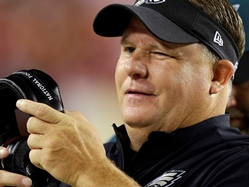 OK, Joe is posting this in the middle of the night because he just ran across this and spent the past 10 minutes laughing.
As most Bucs fans know, current Eagles coach and then-Oregon coach Chip Kelly agreed to be the Bucs coach and hours later, reneged, stayed at Oregon one more year before taking the helm of the Eagles.
Well, Joe just found out why. Below is video surveillance of the Bucs hotel where Team Glazer and Bucs rock star general manager Mark Dominik stayed and met with Kelly for interviews.
Joe hates to have to point out that this is purely satire.