What $26 Million Guaranteed Won't Get You
December 1st, 2013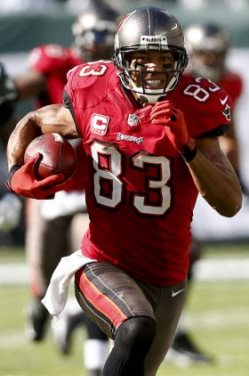 Before Joe gets going here, before the haters try to blame Vincent Jackson for forcing Bucs fans to perform the laborious if not dangerous extra click of the mouse for the "read more" option, Joe loves VJax. Thinks the world of him. He's a warrior.
Usain Bolt, VJax is not.
Joe just loved how VJax hauled in a bomb from Mike Glennon down the right sideline in the first half, got behind the defense, but, again, VJax was caught just short of the goal line.
Again.
Naturally, the Bucs, specifically Mike Glennon, fumbled and came up empty-handed on the play. That was critical. It also reminded Joe of how VJax was caught from behind last year against New Orleans and was downed at the Saints-1, and the Bucs never scored.
VJax also looked to have the game-winner against the Jets, but was caught from behind.
Damn, Joe just wishes $10.5 million, VJax's salary, could buy an overdrive gear.
Joe knows nobody is more PO'ed about this than Jackson himself. But, damn.