USA Today Slings Mud At Bucs
December 28th, 2013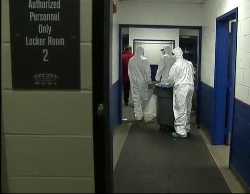 More and more each day, it seems once honorable, mainstream media outlets (the MSM), have become little more than bad sports talk radio the way they cover sports.
This thought came to Joe's mind when he read a piece of fiction thrown out as fact by USA Today when the outfit decided to do a power ranking of NFL coaches.
As one may guess, Bucs commander Greg Schiano was not very high on the USA Today list, coming in at No. 29, or fourth worst. Hey, Joe would bet even Schiano would admit he's not had the finest of seasons. No harm there in what USA Today wrote (so far).
But where USA Today went from reporting to Stephen King tale-telling was this little nugget after Schiano's ranking.
Not a lot to say about the bottom four. Their teams haven't been good, their locker rooms are a mess, they aren't winning this award. Moving on.
"Their locker rooms are a mess?" Really?
Now Joe can't say he is at One Buc Palace every day, but he tries to go there no less than twice a week during the regular season, and that's not counting all home games in the locker room and select road games when Joe enters the player's sanctuary. Joe has not seen one scintilla of evidence of angst in the locker room among players much less the locker room being "a mess."
In fact, Joe sees a fairly harmonious locker room. The only time Joe saw anyone getting bent out of shape is when Donald Penn reacted angrily to what he perceived was a hatchet job on sleepy, leaky Rip Van Freeman. Does that sound like a locker room that is a mess?
Shoot, Joe sees vets getting along quite well with not just fellow vets, but rookies, too. The team used to have guys, including high-profile players (not named "Josh Freeman"), who were noted pouters who couldn't wait to get away from his teammates quick enough if he wasn't a key cog in the game plan. Even if the Bucs won, one player would bolt off the field and out of the locker room as quickly as he could dress, sans shower, if he didn't get his touches.
There's none of that nonsense in the Bucs locker room now. How many times have we heard Schiano or Bucs rock star general manager Mark Dominik remark about the character of the players on the roster?
"Locker room is a mess?" Really?
The only good thing USA Today did with this piece was leave out a byline so the guilty reporter (?) is covered.
To throw out a lazy, damning one-liner like that when it's not even true, for a national publication like USA Today, it is not just shameful but it makes one wonder; what other stories or nuggets of information USA Today invented out of thin air?