An Historic Oversight
December 28th, 2013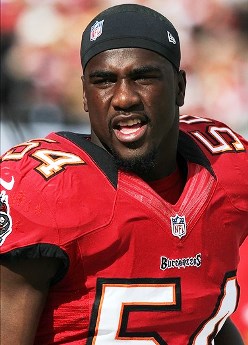 Learned football people, not just fans, Twittered Joe often last night aghast that Bucs linebacker Lavonte David was snubbed by the people who concoct what is now known in Joe's eyes as the "Pro Blow."
In fact, David was trending globally on Twitter more so than this Duck Drop schlock or whatever it is on A&E that Joe has never watched a second of and is oblivious to but has made national news the past week.
How big of a miscalculation was it to ignore David for the Pro Blow? Joe will let NFL Network talking head and star of the Red Zone Channel, Andrew Sicilano, explain.
@AndrewSiciliano: re: Lavonte David: Since sacks became a stat in '82, no player with 130+ tackles, 5+ sacks, 5+ INT missed Pro Bowl
Until now, with David.
This snafu just reinforces what Joe has written several times this past season. That Lavonte David is the current Joe Pisarcik.
In case you don't know Pisarcik, he quarterbacked the Giants in 1978, and in a game in which the Giants were up by five in the waning seconds, Pisarcik fumbled a handoff thatwas scooped up by Herm Edwards (yes, that Herm Edwards) and the winning touchdown, giving the Eagles a victory in what is still known as "The Miracle at the Meadowlands." That the play happened in Gotham (well, Jersey to be exact) under the eyes of the media capital of the world, is why Pisarcik's name lives in infamy.
No one can ever remember anything good he did, but Pisarcik's fumble is seared into NFL lore.
When David had his brainfart moment that propelled the Jets to a win in Week 1, that too happened in Gotham (well, Jersey to be exact) and David made every NFL highlight package that night across the country and not for a good reason.
That, sadly, is what too many people think of when David's name is mentioned.
Further proof happened earlier this month when eye-RAH! Kaufman of The Tampa Tribune made a compelling case for David to be a defensive player of the year during his weekly "Kaufman's Korner" segment with the one and only Chris "Mad Dog" Russo on the show that bears his name, "Mad Dog Unleashed," heard exclusively on SiriusXM Radio.
When Kaufman brought up David's name, Russo howled, in so many words, "Oh, really? The guy that had the idiot play against Geno Smith up here? He's playing that well, huh?"
Mind you, Russo is a national sports radio host of great import who both has a large audience and influence. If a guy like Russo thinks of David's play against the Jets before David's body of work, imagine what Joe Six Pack out in Nebraska or New Mexico thinks of David?
If David made that bad play in Jacksonville or Nashville or Buffalo or some other nondescript NFL market, few would remember. But it happened in the worst place. Within the shadow of Manhattan's skyscrapers.