"Trust Your Eyes"
December 12th, 2013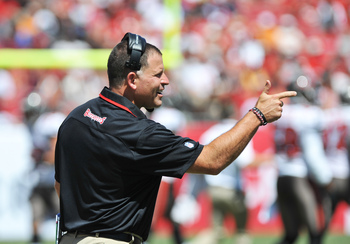 Any Bucs fan will enjoy this NFL Films "mic'd up" video of Greg Schiano patrolling the sidelines during the Bucs-Bills game (video here), part of the SoundFX series on NFL Network.
Among the interesting nuggets were Schiano's counseling session with Eric Page after Page failed to throw his reverse option pass out of bounds, as well as Schiano's words for Mike Glennon after  red zone interception.
Schiano also seems to have a soft spot for Bobby Rainey — before his 80-yard touchdown run.
There's plenty more as well, including looks at how Schiano gives regular input into offensive playcalling. No surprise there.