"The Schiano Watch"
December 24th, 2013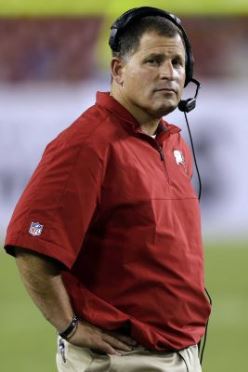 Right now Sunday's clash with the Saints at the Superdome is secondary to Bucs fans. Turn on sports radio or read comments here and you will see fans are clearly looking to the future, very much past Sunday.
Already Bucs fans are giddy about the draft, some five long months away. And, of course, the job status of Bucs commander Greg Schiano is on Bucs fans' minds.
So too is Schiano on the mind of Pat Yasinskas of ESPN. He believes Sunday's outcome will likely determine the fate of Schiano.
The Schiano Watch. After trending upward briefly, coach Greg Schiano has lost his past two games. His team is 4-11. If Schiano closes out the season by losing his final three games, it's hard to imagine the Bucs keeping him around.
A loss to the Saints would also mean a fourth loss in the final five games.
Look, Joe does not know for a matter of fact if Schiano will or will not be back for certain. The tea leaves seem to suggest he will return. That's not an absolute.
If someone would put a gun to Joe's head (and Joe is sure many would love to do just that), Joe would bet Schiano returns.
But Joe wouldn't bet more than $5 on that line.