The "Mental" Time Of Year
December 18th, 2013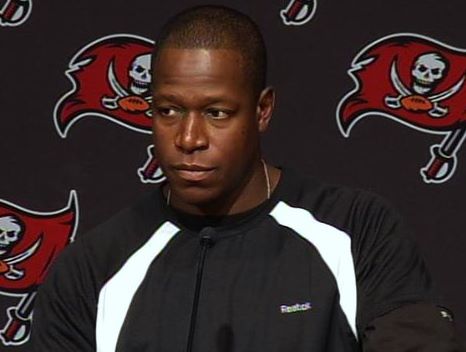 Dashon Goldson says the 2013 Bucs shouldn't be plagued by something Raheem Morris said helped sink his team — and his job.
Diehard Bucs fans will remember how Raheem used to moan about how the new NFL labor agreement cut back on physical practices so much that it hurt his young club, especially during a post-lockout season.
The complaint was fair, but not really, considering the rest of the NFL faced the same challenges.
Right now, the Bucs are out of "padded" practices. Tampa Bay's ugly running game, for example, can't be fixed by Greg Schiano putting the offensive line in pads and having them refine technique and grind out changes on the practice field against live bodies. Or, for example, Schiano can't ride Da'Quan Bowers hard even if he wanted to.
The Bucs haven't been in pads for a few weeks. Before they ran out of allotted sessions, Schiano had cut back on the actual time spent in pads during those sessions, to help keep players fresh.
Today, Joe asked Goldson about whether it's a challenging when the Bucs can't get physical during the week.
"No. We haven't been in pads for a long time. At this level it's more mental than anything. I think everybody here is still physically in shape, Goldson said. "We work out every day. We lift weights. And we're a physical team. There's no slack when you don't wear the pads. It's more mental than anything. The gameplan is a lot, just getting your mind in the right place and guys keeping their legs and getting their feet right."
It's also worth noting that the late days of the NFL season offer a supreme test of the team's internal leadership. If Goldson and Darrelle Revis, for example, bring September intensity to meetings, then young players like Johnthan Banks and Leonard Johnson will do the same.
Vincent Jackson, for example, can raise the bar — or keep it high — for those around him.
There's been no quit in these Bucs, unlike what was seen two years ago. But Joe's always on the lookout for signs. Joe remains somewhat in disbelief of how the Bucs didn't show up in New Orleans last season, getting clubbed by 41-0 last December.