Peter King: Glazers "Really Like Schiano"
December 19th, 2013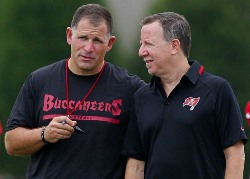 It's part of the holiday season, just like candies and nuts and eggnog and Christmas lights and drunken parties and rotten TV specials and bowl games and bad sweaters. It's the NFL coaching carousel, when we try to guess which coaches have been naughty and will get bounced.
In his weekly segment with the one and only Chris "Mad Dog" Russo on the show that bears his name, "Mad Dog Unleashed," heard exclusively on SiriusXM Radio, fight-instigating, barista-training, pedestrian-bumping, olive oil-lapping, popcorn-munching, coffee-slurping, fried-chicken-eating, oatmeal-loving, circle-jerking, beer-chugging, cricket-watching, scone-loathing, college football-naïve, baseball box score-reading Peter King of SI.com and theMMQB.com fame discussed NFL coaches on the hot seat.
When Russo brought up the name of Bucs commander Greg Schiano, King openly scoffed at the suggestion Team Glazer would jettison Schiano after this season and, per King's own research, Schiano will survive the guillotine, in part, because Team Glazer likes Schiano so much.
Chris "Mad Dog" Russo: There might be a lot [of NFL coaching vacancies] including down in Tampa. They have played better but they have not played well against the good teams.

Peter King: I don't see it. I just don't see it. And I will tell you why. Because, in my opinion, the owners of that team really like Schiano. And they have really shown great signs of life going forward, too – they were not beating the 49ers. They were 4-1 going into that game Sunday [in their last five games] and I am not even sure that they have to win out or anything but I mean, look. If they lose to the Rams and the Saints and they very, very well could – both of those teams are on the road – they could lose both of those.

Russo: Easily!

King: If they lose both of those games, I guess he could be in trouble. But, I don't know. I've talked to people in that organization and I do not sense any sort of fire drill about to happen.
Joe knows fans don't like to read this. Joe's just being honest and upfront from what he has learned talking to people. It sure seems, the way the tea leaves are floating, that Team Glazer, while not happy with (another) sub-.500 record, are willing to give Schiano a mulligan because of the Rip Van Freeman saga and the MRSA mess. Also, there are signs of life. This looks to be the second solid draft class in a row that Bucs rock star general manager Mark Dominik has procured, and at worst, Schiano's staff seems to be able to develop the young players Dominik brings in.
Joe also senses Team Glazer doesn't want to turn the Bucs into the Raiders of the east coast with coaching changes every two years.
Of course, things are fluid at One Buc Palace. If the Bucs are blown out the next two games, then, of course, all bets are off.
Here is also something to ponder to give Joe's readers a hint as to the mindset of Team Glazer: The legend at One Buc Palace is that in 2011, Team Glazer wanted to jettison Raheem Morris before the season ended but couldn't because Morris was both head coach and defensive coordinator and the Bucs would not have been staffed to finish the season if Morris was bounced.
Now Joe doesn't totally buy that. There were all sorts of guys with head coaching experience walking the street Team Glazer could have hired to come in as interim coaches (just to throw out a couple of names for the hell of it, Marty Chokenheimer and/or Wayne Fontes — Fontes lives in the area and is often seen watching Bucs practices as a guest of Team Glazer and the Bucs), and independently evaluated players for Team Glazer and Dominik while finishing out that season.
Look at Schiano's staff. There's a special teams coach with loads of NFL head coaching experience, plus seasoned coordinators who could take over as interim coaches. The same reasoning for not unloading Morris (allegedly) before the end of the 2011 season does not apply here if Team Glazer was so inclined. Plenty of guys could step in.
Yet, Schiano is still on the sidelines.