Strong Penn State Push Now For Schiano
December 29th, 2013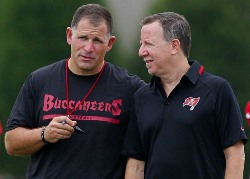 Greg Schiano has many Bucs fans running to Home Depot for pitchforks and other dangerous lawn tools for an angry march on One Buc Palace, but the honchos at Penn State have no interest in those shenanigans. 
NFL Network reported this morning that Penn State is planning a full-court press on Schiano, with university officials targeting Schiano now that it's known Penn State head coach Bill O'Brien is nearly a lock to return to the NFL.
Reporter Ian Rapoport claimed Penn State is "ready to make a strong push" for Schiano and that Penn State athletic director Dave Joyner is "mulling flying down to Tampa" in order to try and convince Schiano "in person" to come to Penn State.
Yes, last week Schiano denied that he reached out to Penn State, but a job recruitment/hunt is always a fluid situation and things might have changed.
Schiano was an assistant under Joe Paterno for years at Penn State and the farm-country school is about a 3 1/2-hour drive from Schiano's old stomping grounds and family in New Jersey.
Obviously, Penn State is a plumb job, and one would think they'd be able to come close to the $3 million per year Schiano earns with the Bucs.