Schiano "Surprised" At Sloppy Tackling
December 3rd, 2013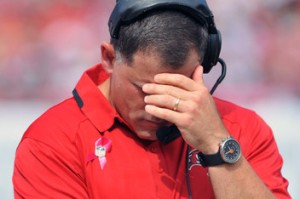 There's not a lot of good to take out of the seal-clubbing the Stinking Panthers performed on the Bucs Sunday. On the flip side, there is plenty to learn from and correct.
And Bucs commander Greg Schiano was stunned by one of those elements. Schiano prides himself in his teaching of fundamentals, defensive fundamentals more than anything. Yet, those treasured skills vanished against the Stinking Panthers.
In particular, it was sloppy tackling — or non-tackling — by the Bucs defenders.
This shook Schiano to his core.
"I was surprised, I didn't see that coming," Schiano said Monday. "I thought we've tackled very well for the majority of this season. I think it was the highest missed tackle total that we've had. We got to really get back to basics in that because that's what tackling is, it's fundamentals and it's want-to and our guys play incredibly hard. It's just one of those days."
Hopefully, it was one "just one of those days." Joe knows that Schiano stresses tackling in every practice. Shoot, in training camp, the Bucs seem to work on tackling almost as any other element of the game.
Yet, the sloppy tackling reared its Raheem Morris head Sunday.
Could it be that the Stinking Panthers were just so physical, that they got into the heads of the Bucs' defense?